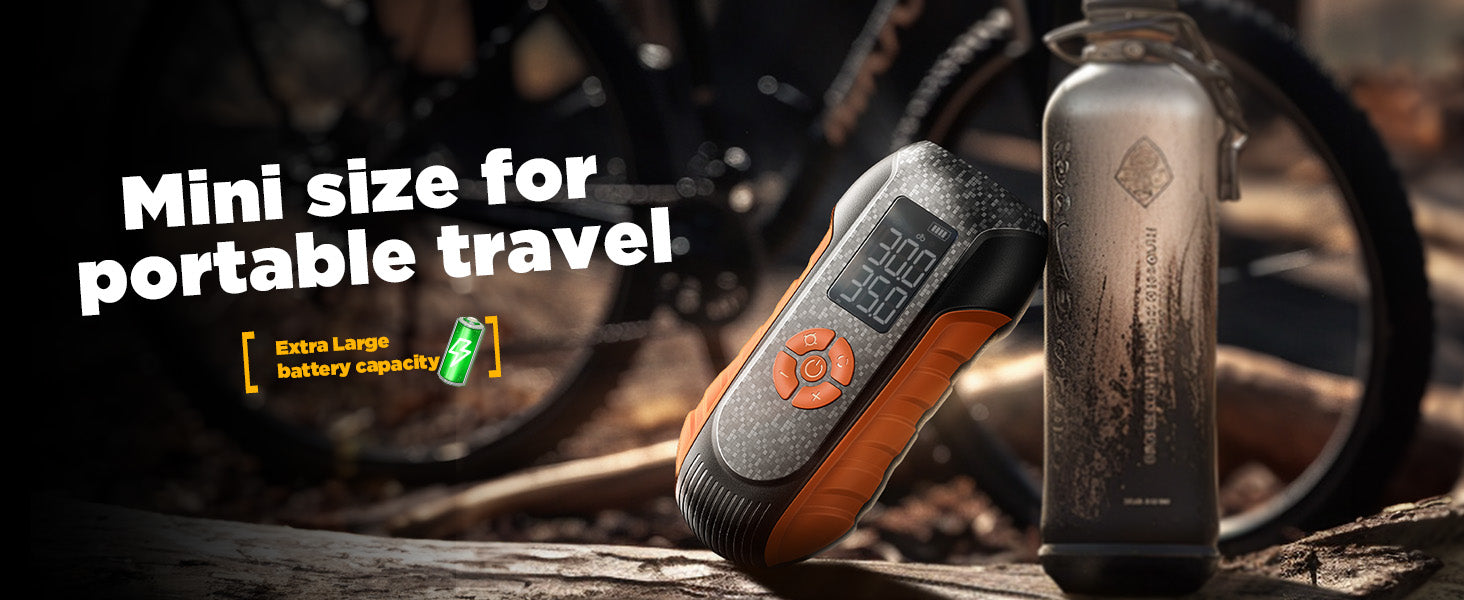 LISEN Portable Tire Inflator - For All Your Inflation Needs, and More
A Portable Tire Inflator is a convenient device used for inflating the tires of vehicles such as cars, bicycles, motorcycles, and more. It is designed to be easily carried and operated, making it a must-have tool for drivers on the go.
Why do you need a portable tire inflator?
When you travel, whether it's a road trip, camping adventure, or vacation, having a portable tire inflator is essential for many conditions.

Properly inflated tires are crucial for safe and efficient driving. Traveling long distances or over rough terrains can cause tire pressure to fluctuate. A portable tire inflator allows travelers to check and adjust tire pressure easily, ensuring optimal performance and fuel efficiency.

Rather than searching for a service station to fill up tires, having a portable tire inflator saves time and potential expenses. It eliminates the need to pay for air at certain gas stations and minimizes downtime spent on tire-related issues during the trip.

While traveling, unexpected situations such as a flat tire or slow leak can occur. Having a portable tire inflator on hand prepares travelers to handle such emergencies promptly. It enables them to inflate the tire temporarily, allowing them to reach the nearest repair shop or safer location.

Portable tire inflators are not limited to tires alone. Many models come with various nozzle attachments, allowing travelers to inflate inflatable mattresses, sports equipment, and other items they might carry during their journey.
Rapid and Efficient Inflation
With an amazing maximum pressure of 150 PSI and powerful airflow of 20 L/min, you can effortlessly inflate your bike tires in seconds.
Compact and Portable Design
Designed for the on-the-go cyclist, our compact portable bike air pump is thoughtfully designed to be lightweight and easy to carry. Its sleek and ergonomic design allows for hassle-free storage in your pocket, backpack, or bike bag, ensuring it's always within reach whenever you need it.
Suitable for inflating all tires for bicycles, motorcycles, cars and ball sports. Its solid construction guarantees long-lasting durability, making it a reliable companion for every riding adventure.
Emergency Power Supply and Flashlight
This air pump can not only be used to inflate tires. Equipped with a built-in rechargeable battery, it provides a reliable power source to charge your devices in emergency situations. Additionally, the integrated flashlight ensures visibility and safety during nighttime or low-light conditions.
Wrap Up
In conclusion, LISEN Portable Tire Inflator is a practical and indispensable tool for travelers, ensuring their safety, convenience, and preparedness during their journeys, regardless of the terrain or distance traveled.

When you start using one, you'll realize how much you've been missing out on.